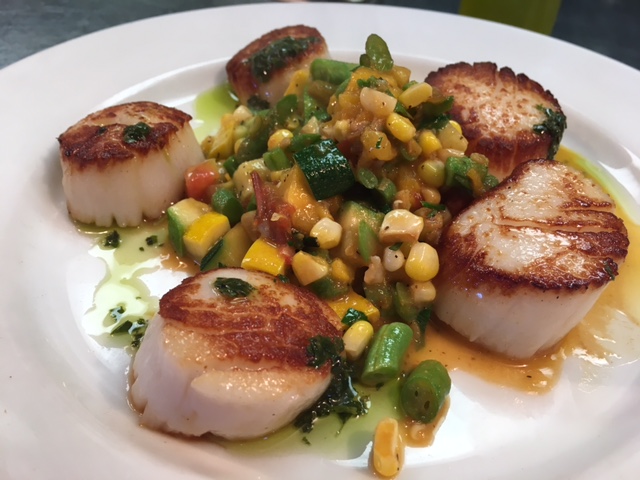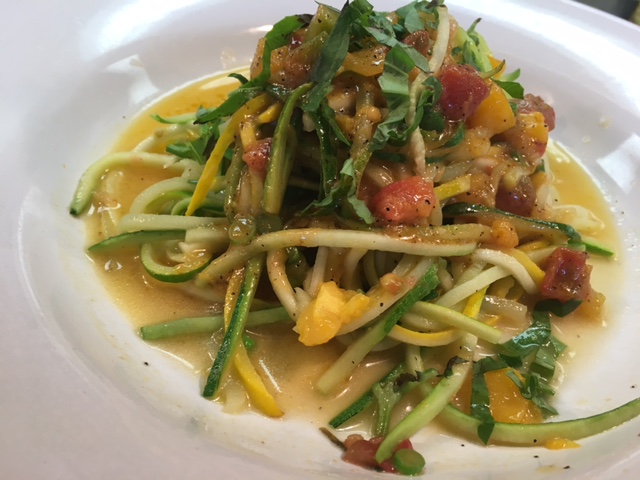 Health experts tell you that a healthy meal means that over half of your plate should be filled with vegetables. Sounds great right? But how many of us actually follow that rule when we go out to eat? Treating yourself to a meal outside of the home doesn't mean that your health has to go out the window. Corner Kitchen gives you the option of making good choices, that also happen to be delicious ones too. Trust us, we like fries as much as the next person, but we also like to take care of our health conscious friends.
Here at Corner Kitchen, we are proud to provide dinner options for everyone. Whether you are on a diet, have a food allergy, or just like to fill your body with lots of yummy vegetables, we have something for you:
The Squash Pasta - a big plate full of veggies fresh from our local farmers. Zucchini and yellow summer squash julienned thin to look like pasta, tossed with fresh herbs in a white wine butter sauce. Want to skip the butter? No problem, we can make this dish completely vegan. But if you don't want to skip the protein, add a piece of delicious salmon to round it out!

The Quinoa Pita Salad - healthy, protein packed quinoa and chickpeas make up the bulk of this salad, tomatoes, mint, parsley and lemon round it out, served over lettuce. It's a satisfying salad that's completely vegan. Skip the pita for a gluten free option, or keep the vegan train rolling by adding some tofu for a little extra oomph!

The Stuffed Eggplant - yet another dish on the menu where vegetables are the star of the show. A whole eggplant, sliced, stuffed and surrounded with fresh, bright, local vegetables, savory, and satisfying. Chef considers this dish the standout of our summer menu: the epitome of summer, and as satisfying as a steak

The Pan Seared Scallops - a generous serving of pan seared sea scallops over a bed of succotash: green beans, corn, tomatoes, with a basil oil. This dish hits all the notes, from the scallops which are low in fat and high in protein, to the fresh produce at the peak of the season. If you happen to lick your plate, we promise not to judge.
These are just a few of the great options for the healthier side of things. Don't want to give up your burger or meatloaf? You don't have to, but you can swap out the fries or mashed potatoes for our vegetable of the moment: rotating options of local, fresh vegetables.
The point? You don't have to sacrifice flavor for health, and you can make a good choice when you dine at Corner Kitchen. So good, in fact, that you can justify dessert.